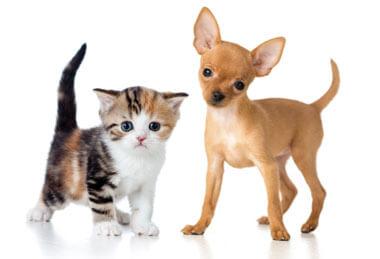 As the owner of a new puppy or kitten, you will need to visit a veterinarian for health checks, immunizations, intestinal parasite screenings, and other preventive health care concerns. If you are a first-time pet owner, this is an opportunity to learn about your new pet's medical and other health needs.
We know you are looking forward to a long and happy life with your pet. To accomplish this, we recommend that you establish a relationship with your veterinarian and plan on regular, twice-yearly visits for routine pet wellness checks. If you have adopted your pet from a local shelter, Seven Hills Veterinary Hospital offers a free exam for your adopted pet's first visit.
Both dogs and cats age at a much faster rate than humans. As a result, their health can change dramatically in six months. Pet wellness visits allow your veterinarian to examine for changes in your pet's health as well as answer questions regarding his or her changing health needs.
Spaying or neutering your new puppy or kitten is an option to be discussed with your veterinarian during early pet wellness checks. Unless you are planning to breed your dog or cat, there are good health reasons to consider spaying if you have a female or neutering if you have a male. Newer laser and laparoscopic veterinary surgical procedures, which are accompanied by less pain and faster recovery, are available for spaying and neutering.
As a new owner, we know you love your new puppy or kitten and want him or her to be healthy and happy. We are here to assist you with all your new pet's health care needs!