Welcome To Seven Hills Veterinary Hospital!
Avoid the corporate grind and come join our team! We are a privately owned 24-Hour General Practice and Emergency Hospital. Since our beginning in 1985, Seven Hills Veterinary Hospital has continued to expand and grow in order to meet the increasing needs of our clients and patients. We have been an accredited member of the American Animal Hospital Association (AAHA) since 1987. Our owner, Matthew S. Demey, DVM, strives to ensure that we continue to exceed the strict quality care standards that AAHA accreditation requires.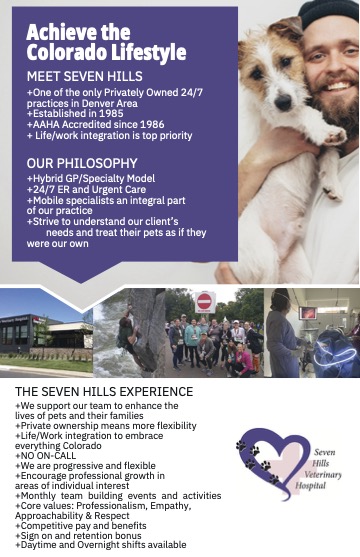 Opportunities At Seven Hills Veterinary Hospital, Inc
Below is a list of positions for which we frequently hire. Please note not every position is available at this time. More details are provided with each individual position.