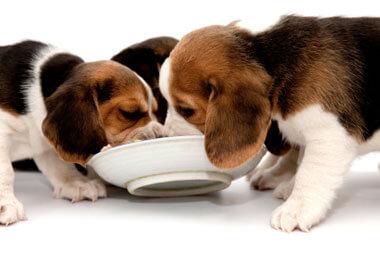 Good health requires proper nutrition. A healthy diet for your dog or cat is one of the requirements for a healthier and longer life for your pet. A good time to discuss your pet's nutritional needs or ask questions about special veterinary diets is during your pet's twice-yearly pet wellness visits.
Good nutrition starts with making sure that your dog or cat has access to sufficient water for proper hydration. The water bowl should be available to your pet at all times and should be cleaned frequently, with the water changed regularly.
There are a number of pet food products on the market from which to choose. In addition, if you have the time or inclination, you can prepare your pet's food yourself. However, the nutritional requirements of both dogs and cats are different from those of humans, so you cannot simply feed your pet the same food you prepare for your family. The veterinarians at Seven Hills Veterinary Hospital work closely with a certified veterinary nutritionist to formulate an individual home-cooked diet for your pet if you so choose. This way we can be sure to avoid any concerns about malnutrition for your pet
Keep in mind that obesity is becoming a problem for pets as well as their owners and, just as with humans, obesity in a dog or cat can lead to serious health issues later in life.
At Seven Hills Veterinary Hospital, we care about your pet's health and well-being, and our veterinarians and veterinary staff are trained and ready to answer your questions concerning your pet's diet and his or her overall health.