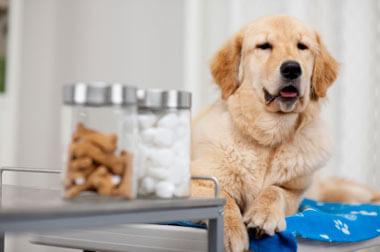 Veterinary surgery, while often necessary, carries with it a certain amount of risk. It can result in pain and discomfort continuing for days or weeks while your pet is healing. Endoscopy is an alternative procedure that has replaced the need in many instances for pets to undergo exploratory surgery.
By inserting a thin, flexible endoscopic tube into one of your pet's orifices, a veterinarian can often examine and obtain the same information and tissue samples previously obtained by exploratory surgery. A small camera is mounted on the end of the scope, and various instruments can be used through a working channel in the scope.
The primary use for an endoscope is to view and photograph the inner linings of your pet's throat, stomach, intestine, and colon or the linings of its nose, throat, and lungs. When any of these tissues appear to be abnormal, a biopsy instrument inside the scope can be used to clip a small sample of tissue to examine in the laboratory.
Because the insertion of the endoscope is an invasive procedure, albeit a mild one, the pet is anesthetized before the procedure is begun. Since there is always some risk associated with the use of anesthesia, Seven Hills Veterinary Hospital follows the same strict AAHA protocol for the use of an anesthetic as we do for our veterinary surgery procedures.