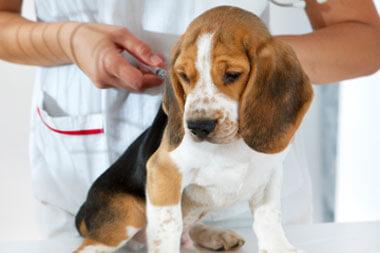 Immunizations are needed to both protect your pet from harmful diseases as well as comply with local pet ownership laws. At Seven Hills Veterinary Hospital, we provide the initial vaccinations during new puppy or kitten care visits and follow up with needed boosters during your dog or cat's regular veterinary wellness visits.
In recommending and administering vaccinations, we follow the AAHA's three-year vaccination protocol, and we do not believe in over vaccination for your pets.
For puppies, we recommend the following vaccination schedule:
Starting at 8 weeks of age for puppies, we provide the DA2PPL (a vaccination combination for distemper, hepatitis, parainfluenza, parvo, and leptospirosis. Also, if your pet is at risk, canine influenza and DA2P (bordetella, adenovirus, and parainfluenza combination) is given.
The canine influenza and DA2P vaccinations are only recommended for dogs that have frequent contact with other dogs outside the home where they can be exposed to these contagious, but usually non-fatal, diseases.
At 12 weeks, boosters are given for DA2PPL, and, if necessary, canine influenza.
At 16 weeks, a final DA2PPL booster is given along with a rabies immunization. In addition, if your dog frequents areas where contact with rattlesnakes is likely, we recommend the rattlesnake toxoid, which helps to slow the effects of rattlesnake venom and gives more time to seek treatment.
A rattlesnake toxoid booster is recommended at 20 weeks for those receiving the rattlesnake toxoid immunization at 16 weeks.
For your new kitten, we recommend:
At 8 weeks, a test for feline leukemia (FeLV), as well the feline viral rhinotracheitis, calicivirus, and panleukopenia (FVRCP) immunization is given.
At 12 weeks, we repeat the FVRCP immunization along with the FELV vaccination to protect against feline leukemia.
At 16 weeks, we include a rabies vaccination along with the final FVRCP and FELV boosters.