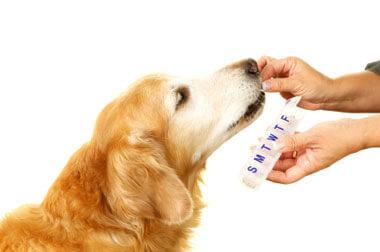 As part of our commitment to providing convenience for our clients and their pets, Seven Hills Veterinary Hospital maintains a small on-site pharmacy. Our pharmacy is available as a service to our pet owners. Because of its small size, use of the pharmacy is limited only to clients of Seven Hills Veterinary Hospital.
With our on-site pharmacy, pet owners can usually pick up medications prescribed for their pets by our veterinarians during their visit rather than having to travel elsewhere and wait to have their pet's prescriptions filled.
Prescription refill requests can be made by telephone or online. However, on-site pick-up is required in both cases. Please allow 24-48 hours for us to fill your prescription.
While we do not stock regular pet supplies, our pharmacy does stock a small supply of prescription pet diet products and over-the-counter medical supplies such as ear cleaning solutions. With pet food allergies and obesity being a problem, we feel it is important to stock specialty pet diet products so that clients can pick them up and begin using them the same day the veterinarian prescribes them.
Over-the-counter health products, such as toothbrushes and toothpaste for cleaning your pet's teeth, are important for providing your pet with proper dental hygiene. Having such products available makes it easier for our pet owners to obtain and begin using them as soon as possible.